Our exceptional bottles
La Tour d'Argent has one of the most iconic wine cellars in the world.
Historic bottles have found their ideal setting in our cellars. 
Among the cellar's 300,000 bottles are collector's items and great vintages from outstanding years: Château Citran 1858, the oldest wine in our cellar, a Château Siran 1865, a Château Gruaud-Larose 1870, a Château d'Yquem 1871, 1874 vintages of which we have kept a Château Rayne-Vigneau. A unique collection, matured in our legendary cellars under optimal conditions, with each bottle bearing the Tour d'Argent seal that is so sought-after by lovers of exceptional bottles from all over the world.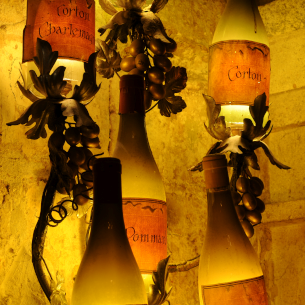 David Ridgway was the Head Sommelier until 2021, and it is thanks to him that the Tour d'Argent has one of the richest wine cellars in France and probably worldwide. His expertise, known and recognised throughout the world, and the knowledge that he provides to our sommeliers contribute to providing our guests with a culinary experience of the highest level.
From an exceptional cellar and the expertise of our head sommeliers, we have built a philosophy: to convey the producers' passion to you and, through this tour of France, to help you discover a unique selection of wines from French vineyards, created by men and women in love with their land and their profession.