Our Bordeaux producers
In the heart of the Bordeaux vineyards, this cooperative, which was created in 1933 from the partnership of several winemakers, only produces AOC wines.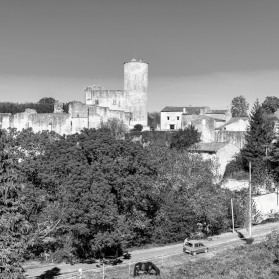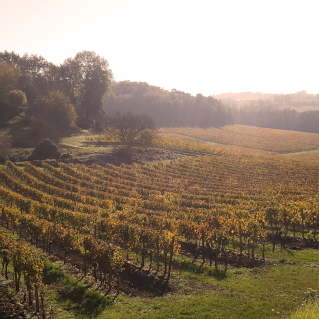 Committed to an advanced approach to sustainable development, the cooperative is growing and becoming more established over time, while still faithful to the spirit of conviviality that has been present since the beginning. To produce their wines, more than 4,000 grapes are picked ahead of the harvest to identify their aromatic profiles, and determine the ideal harvest date and the most suitable vinification.
Property of Françoise and Jean-François Janoueix since 1978, the vineyard dates from four centuries earlier, and owes its establishment to the esteem of King Henri IV. Benefiting from an iron-rich subsoil and a microclimate conducive to exemplary ripeness, the vines are worked using organic farming methods, and the fruit is sorted by hand at harvest time.
Acquired by Benoît and Maud Soulies in 2016, the estate has had vine stocks since 1730. With their certified organic viticulture and use of algae and natural essences instead of copper, their use of bottles and labels made of recycled materials, as well as their installation of beehives, the couple is working hard to make biodiversity flourish between the vines.
A little vineyard in Saint-Estèphe is owned by the Guyonnaud family, who produces vines with a unique personality. Since 2014, the third generation has been making the entire production in their own cellars.
In 1921, the Château Vieux Chevrol in the town of Néac, the seat of the Lalande de Pomerol appellation, became Martial Champseix's fiefdom. By his side, his wife and son Jean-Pierre helped bring the vines back to life and worked to shape the unique identity of their wine. Now, the head of the third generation, Michel, has converted the whole domain to organic winemaking. Slow work, harmony between soil and grape variety, complex aromas: all result in high-quality vintages.
Built in the 1700s, the château was restored by the Watts-Allison family in 1988. The second generation, Nicola and her husband Sean, looks after the organic certified vineyard and its development with the utmost care. Ground cover planting, reduced energy consumption and the circular economy are just some of the good practices adopted by the couple.
This medieval fortress was acquired by the Hermite-Mansencal family in 1924, the ancestors of Pierre and his son Denis Dubourdieu, two experts with a pioneering spirit who helped develop the legend of Bordeaux wines. Today, it is the future generation, brothers Fabrice and Jean-Jacques, who are continuing the family tradition. The exquisitely sweet grapes reflect the propitious terroir, and are much enhanced by the brothers.