La Rôtisserie d'Argent
At the Rôtisserie, a lively and warm venue, we are faithful to our traditions, fully living up to our bourgeois gastronomic legacy.
A pleasant Lyonnais restaurant acquired in 1989 by Claude Terrail, the Rôtisserie d'Argent has naturally evolved over the years to become a typically-Parisian bistro. Its famous rotisserie is the heart of the establishment, a heart that never stops beating, providing the energy of this "country house" style venue in the middle of Paris. Ideally located on the left bank of the Seine, nestled between the banks of the river and the Montagne Sainte-Geneviève, just a stone's throw from the Latin Quarter, the Rôtisserie d'Argent is a landmark on the islands and Notre-Dame. Huddled against its big sister, the Tour d'Argent, it holds dear the same values, also dedicated to the pleasure of its guests. These familiar local guests: businessmen, local figures, politicians, artists and others, come together around our tables, and it is not unusual to see people who have only just met deep in conversation.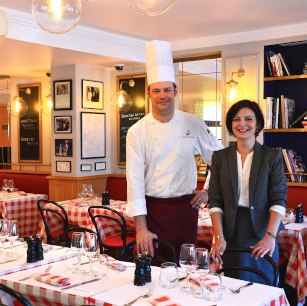 © Géraldine Martens - Chef Sébastien Devos and restaurant director Nathalie Ravasse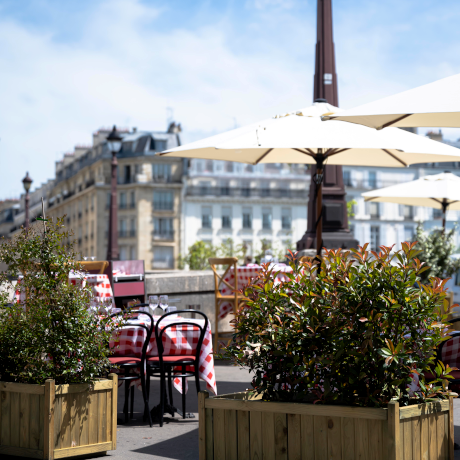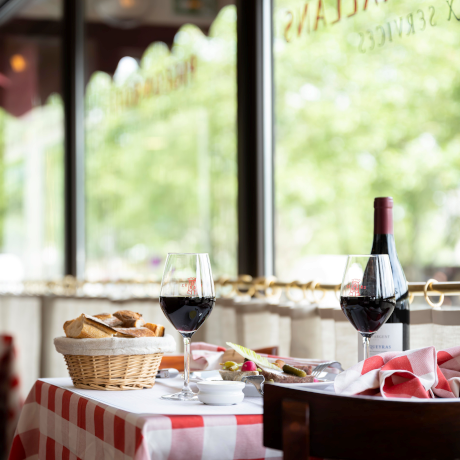 Here, good food is seen as a marriage between quality and a respect for the seasons. The cooking follows the rhythm of the spit, which gives the products time to express all their flavours. Challandais ducks, roast chickens, pigs & suckling lambs...: at our table, there is nothing but generous produce! La Rôtisserie shares the same producers as La Tour d'Argent. The two establishments have the same exacting standards of quality. The focus is on market produce that follows respects the rhythm of the seasons: simple and tasty, prepared on the same day with the right amount of seasoning and cooking. The wine list allows you to access incredible bottles from La Tour d'Argent's cellar — one of the sommeliers from this illustrious institution sometimes comes to the Rotisserie at the request of a client looking for the perfect food and wine pairing. With old vintages, surprise discoveries and young premium wines, your choice is bound to be excellent! And don't forget the multitude of deserts, all delicious, reinterpreted with taste and talent: millefeuille, Tarte Tatin,  île flottante, Mont-Blanc... at the Rôtisserie, the meals just go on and on!
So take pleasure in feasting here, every day... Enjoy your meal with us!