Our famous duck
Carved in front of the guests, with each duck numbered, this dish has created the legend of La Tour d'Argent, both in France and internationally.
At La Tour d'Argent, the Challandais duck has been an institution since 1890. Frédéric Delair, then the restaurant owner and the Maître d'hotel, developed this unique recipe, codifying each gesture. The impressive ceremony made and still makes the reputation of our restaurant. In homage to this brilliant, talented Maître d'hotel, the "canard à la presse" (pressed duck) is today named after its inventor, and each duckling served at the tables continues to be numbered.
The duck, an emblematic dish at La Tour d'Argent since its origins, is famous for its exceptional meat, which has been enhanced by the Maison's ancestral expertise.
For more than 60 years, La Maison Burgaud — now run by the 4th generation of the family — has been the official supplier to La Tour d'Argent and delivers its famous duck, farmed in Challans, in the Vendée, to the restaurant each day. The birds are raised outdoors for 8 weeks in the Vendée and fed exclusively on cereals.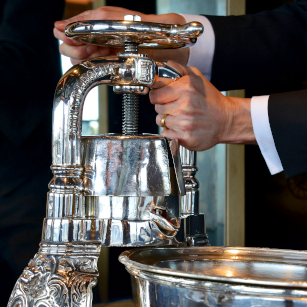 Now, we offer you the opportunity to taste this exceptional dish at home, via four recipes from our culinary heritage: Challandais duck, Mazarine with orange Challandais duck, Marco Polo with green pepper Challandais duck and Mac Arthur with red wine Challandais duck.
The products include advice from Chef Yannick Franques on how to cook the duck breast and legs perfectly at home. To season this unique meat, discover our collection of salts and sauces – to reheat at home – part of the La Tour culinary heritage and made in the La Tour kitchens by the Chef, to enhance your duck.
A delicious and unique tasting experience.
SPOTLIGHT ON... THE BURGAUD FAMILY IN CHALLANS
An institution of La Tour since 1890, our ducks are raised traditionally in the Vendée by the Burgaud family. Recognised in gastronomic circles, this company — a member of the Collège Culinaire de France since 2015 — has the following motto: "to focus on product quality rather than quantity". Today, two sisters from the 4th generation of the family are continuing the tradition. Our famous ducks are fed on cereals and live in the wild where they find the little treasures that nature offers them.